Any Age
It doesn't matter if you are 5 years old or 50 years old, we can help you celebrate, whether you would like to play with 2 friends or 20 friends! Come to us or we can come to you - 24/7.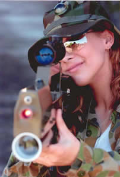 You can celebrate your special occasion during a Public Session at one of our sites.
For a more exclusive experience invite your group of 10 or more players to a Private Session.
Players celebrating their birthday (or other special occasion) with us during any session receive full VIP treatment including, free use of our camouflage clothing (normally $5), pick of teams, and first choice of a gun.
Under 12's
For all those players whose legs are a little shorter... We run Backyard Birthday Battles! We can come to your place (no matter what the size) and run lots of short, full-on games for an hour and a half. To make it better we bring inflatable walls to turn your yard into a battle zone!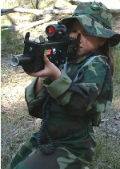 Backyard Birthday Battles package includes:
($400.00 Monday - Saturday, $450.00 Sunday & Public Holidays)
10 Laser Guns,
10 sets of our hire camouflage clothing.
8 pieces of Inflatable Battle Terrain,
Professional referee (to do all the work),
90 minutes of fun!
Bucks and Hens
Relieve the pre-wedding stress by shooting your groomsmen, bridesmaids or even your future spouse. Join a Public Session at one of our bush sites to get down and dirty or our urban sites to be close to CBD entertainments.
Have a Private Party Hens vs. Bucks or 'Hunt the Buck' session.Alcohol permits can be arranged for private bookings, as long as drinking is responsible and no player becomes intoxicated.
Corporate Functions
Need a more cohesive team or just a social outing with your co-workers? Come to us for corporate training, team building or social games. We run Australian Institute of Sport approved team building activities or, on request, corporate programs designed by retired Australian Defence Force personnel. Sessions can be arranged for any time to suit you.
Invitation Templates
(to send to your friends)
Personal Invite (Colour)
Personal Invite (Black & White)
Share Cost Invite (Colour)
Share Cost Invite (Black and White)
Pay for your Game Invite (Colour)
Pay for your Game Invite (Black & White)
Files are saved as Adobe PDF files. If you are unable to open them please download the Adobe PDF Reader from this link.
Themed Party Supplies
Coming Soon
Themed party packs to compliment your laser skirmish games. Plates, bowls, cups, table cloth, balloons and even the toothpicks - all in camouflage print.